Office

308-381-5802

---

Toll Free

866-381-5802

---

Fax

308-381-5803

---
Our Affiliates
Grand Island
PDF files require the Adobe Acrobat Reader
click icon to download
Make A Difference

Assistance Dogs
For People In
Need
We offer a fax service to inform people of products, software, and etc.
Wireless Solutions
Our Promise To You ... We understand that each wireless need is not the same for each business. Our goal is to offer you a wide range of products from Tsunami, Orinoco, D-Link, Linksys, Amer.Com and other vendors. Our simple goal is to offer you the best solution for your environment and budget.
Point-to-Point

2411QB-US Tsunami QuickBridge 11
The Tsunami QuickBridge 11 Kit is a highly reliable wireless point-to-point networking solution for any enterprise or small business. Two pre-configured bridges enable users to easily, quickly, and economically install a wireless LAN extension between two locations—eliminating the need for costly leased line or cable alternatives. The kit contains everything you need to establish a point-to-point connection, including one Tsunami MP.11 Base Station Unit, one Tsunami MP.11 Subscriber Unit, surge arrestors, antennas and Ethernet cables.
48001-002 Tsunami QuickBridge 20 Link - 110/220 VAC
The Tsunami QuickBridge 20 eliminates the installation costs and recurring fees associated with standard T1 or E1 installations. As a leased-line replacement for a single T1/E1, it pays for itself in about a year. Payback period can further be reduced to less than 2 months when replacing multiple leased lines. And, with the addition of an optional T1 or E1 port, you can establish both voice and data connectivity between buildings and eliminate the recurring leased line costs. At 20 Mbps, Tsunami QuickBridge 20 provides data connectivity at nearly four times the actual throughput of comparably priced 802.11b bridging solutions, and more than five times the speed of a standard T1/E1 installation. At the same time, Tsunami QuickBridge 20 delivers up to 99.999% reliability — exceeding that of leased lines. And, because it is wireless and license-free, you can get connected without delay. This solution includes two radio units with integrated antennas, and all of the necessary documentation, cables and mounting hardware. An antenna alignment tool and uses audible tones to ensure that the antennas are properly aligned before you leave the installation site.
48001-004 Tsunami QuickBridge 60 Link - 110/220 VAC
Offering unprecedented ease-of-installation in conjunction with an aggregate throughput of 54 Mbps, the Tsunami QuickBridge 60 is the best price/performance value for building-to-building data connectivity. Providing outdoor connectivity between buildings at distances of up to 2.5 miles, Tsunami QuickBridge 60 provides data connectivity at speeds that approach a standard DS-3 installation. And, because it is wireless and license-free, you can get connected without delay. Tsunami QuickBridge is the easiest-to-install outdoor bridge on the market—it can be installed in hours, not days. The solution includes two radio units with integrated antennas, and all of the necessary documentation, cables and mounting hardware. An antenna alignment tool uses audible tones to ensure that the antennas are properly aligned before you leave the installation site.
Tsunami Multipoint Wireless Point-to-Multipoint System
Tsunami Multipoint, the highest capacity point-to-multipoint solution available on the market today, quickly and easily connects networks between buildings within campus environments and enables service providers to offer a robust variety of services to growing numbers of subscribers. Performance, capacity and scalability are critical concerns in designing business networks. Whether it's expanding service footprint or connecting buildings on a new campus, system performance dictates the success of critical applications. Tsunami Multipoint offers:
Industry-leading 60 Mbps and 20 Mbps over-the-air transmission rates
Unrivaled 54 Mbps and 18 Mbps throughput rates, 200% higher than closest competitor
99.99%+ effective interference prevention, yielding superior performance in high-density areas
Base Station Unit support for 1000+ Subscribers Units, scaling to network and subscriber demand
6 miles/10km range, easily linking sites and extending VoIP functionality
Access Points

ORiNOCO AP-700
It balances enterprise-scale security, management and Quality of Service features with a moderate price point – and either 802.11a or 802.11b/g mode operation. The new, highperformance AP-700 is the entry-level solution in Proxim's next-generation line of access points supporting enterprise voice and video applications. The AP-700 is perfect for mid-size production Wi-Fi networks.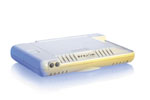 ORiNOCO AP-4000
It is Proxim's highest performance wireless LAN solution. It is memory-rich and pre-configured with tri-mode for automatic support of all client types – perfect for evolving enterprise wireless networks. It has 40 Mbps throughput with 802.11g and 802.11a simultaneous operation, built-in rogue AP detection for both 802.11b/g and 802.11a access points, AP-to-AP communication for reaching areas without Ethernet wiring, unique 802.11a scalability - external antenna connector for increased transmit distance, and twice the memory of competing APs, ensuring software upgrade capacity.
ORiNOCO AP-600b/g
The AP-600 Access Point family is the Wi-Fi compliant, single radio Access Point available in every radio standard: 802.11b, 802.11a and 802.11g. A low-cost, yet full-featured, wireless bridge, enables any organization to quickly set-up a new local area network with the versatility and mobility of wireless technology. Part of the broad ORiNOCO family of infrastructure and client products, the AP-600 is easy to install and simple to manage, providing maximum security and flexibility to mobile users and network managers.
ORiNOCO AP-2000
It is the most flexible enterprise-class access point available! Its unique dual-slot architecture brings unsurpassed flexibility and investment protection to your network by enabling mixed frequency and mixed throughput networks that accommodate a mixture of client devices for various applications. The AP-2000 family offers upgrade kits to higher data rates. The AP-2000 is available in multiple configurations to suit the needs of any wireless network. The AP-2000 and AP-2000AE ship with no included radio for the utmost in flexiblity. The AP-2000b/g ships with the 802.11g radio and an open slot for the additional radio of your choice. The AP-2000 Access Point is part of the ORiNOCO family of secure wireless infrastructure and client products.
ORiNOCO AP-2500 With 802.11b PC Card Included
The ORiNOCO AP-2500 is an all-in-one wireless access point and access gateway specifically designed for public hot spot providers and enterprises. It enables public hot spot providers to cost effectively offer wireless Internet access in venues such as airports, hotels, convention centers, restaurants and coffee shops. Whether you are a wireless service provider, venue owner, or enterprise IT professional, ORiNOCO delivers all the features and functionality you need to ensure ease of use and secure Internet access for your subscribers or guests. It enhances enterprise wireless LANs by providing visitor access functionality. Dynamic address translation (DAT)™ automatically maps visitor addresses to a TCP/IP configuration that enables Internet access without compromising the integrity of the corporate LAN. ORiNOCO AP-2500 combines the best-in-class wireless access point technology with superior public access gateway functionality to deliver seamless connectivity, high security, flexibility and standards-based authentication and billing systems support. Eliminating the need to purchase separate gateways and access points, the ORiNOCO AP-2500 means significant cost savings on hardware and installation for venue owners and service providers.
We also carry a wide variety of D-Link, Linksys & Amer.Com access points!!!
Client Products
We offer a wide rang of products to allow your desktop or notebook to connect to wireless environments. We have notebook cards, PCI cards, USB adapters, whatever you need. No matter the standard we have cards from Orinoco, D-Link, and Linksys to fit your needs.